Nightwing Long Sleeve T-Shirt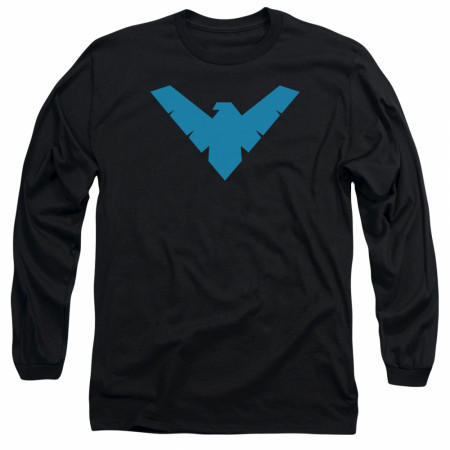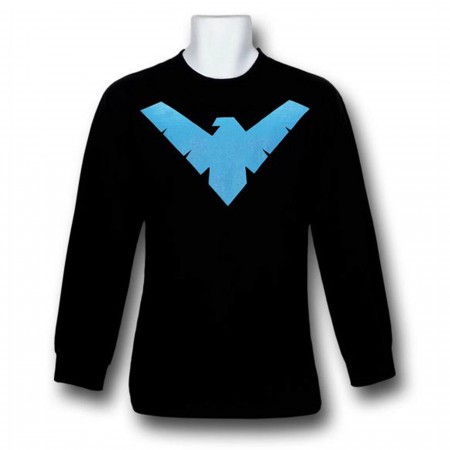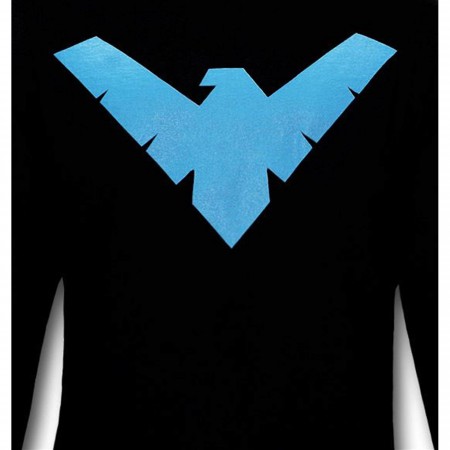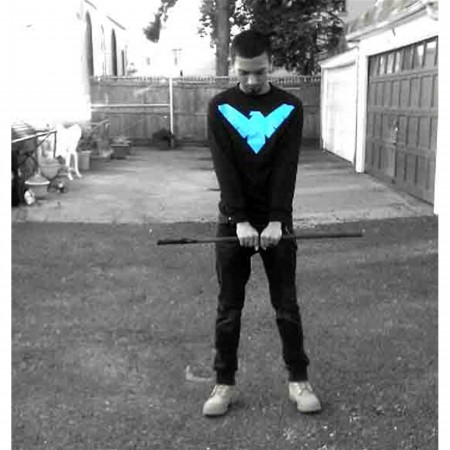 Nightwing Long Sleeve T-Shirt
Shipping Guarantee
In stock items ship within 1 business day
Sooner or later, most Robins get sick of being Robin. Can't really blame them, you know? You can only follow around Batman for so long before you want to run off and do your own Bat related activities like making bat-related origami, dinnerware, and urban spray painting...mainly because Batman doesn't really care too much for those things. I believe that these were the original reasons for Dick Grayson to become the first Nightwing and don this 100% cotton Nightwing Long Sleeve T-Shirt! Wait, no, that isn't how it went. Grayson became Nightwing because he wanted to use those cool batons! Judo-punching and ninja-kicking is only amusing for so long. Sometimes you just gotta beat somebody senseless! Probably why Nightwing decided to distance himself from Batman. Probably. Anyways, this Nightwing Long Sleeve T-Shirt features the Nightwing symbol on a cold resilient long sleeve format. Unfortunately, does not include beatin' sticks.
More Details
Product Brands:
Nightwing,
Batman,
Robin
Product Category:
Clothing & Apparel,
Long Sleeve Shirts
Reviews of Nightwing Long Sleeve T-Shirt
5.0 (Based on 31 reviews)
GothamsReckonning
Blackpool, UK
5.0
Its over all an amazing shirt that looks and feels terrific
Submitted 9 years ago
The Great Aunt
Orlando, FL
5.0
I bought this long-sleeve shirt for my 23 year old nephew for Christmas. He was thrilled and he wore it the next day. It seemed to be a great fit and the shirt was a good quality.
Submitted 9 years ago
Shane
Adelaide, Australia
5.0
3XL is a great size for us tall/large people.. and they got the ratio of the sleeve lengths correct.. Definitely will buy more... How about some Fantastic Four longsleeve tops?
Submitted 10 years ago
Jason
Neenah, WI
5.0
My son was Batman for Halloween and I was not going to be Robin. So I was the next best thing. Nightwing, and an awsome one at that. The shirt was solid black, not that kind of sorta black. And the emblem was solid and looked great.
Submitted 10 years ago
5.0
Been waiting a long time to get my hands on that one. It's perfect. If I may suggest you guys something though, you should TOTALLY make the comic version with the blue stripe shaped as a V going all the way to the end of the sleeves ! I would buy it the second it gets on the website ! Superherostuff rules, as always.
Submitted 10 years ago
5.0
I have no complaints at all. Except the fact that the symbol is starting to be worn off after only 2 weeks or so. Only slightly, and may very well be an error on my part. Otherwise, perfect
Submitted 10 years ago
Dasha
Banff, Ab
5.0
I really like this. I'm a girl and I think it's a men shirt but I like loose sweatshirts anyways. :)
Submitted 9 years ago
Michael Bulat A.K.A MIKEY B
frinton-on-sea United kindom
5.0
This NIGHTWING longsleeve t is fantastic really nice fit and the logo is awsome too and really keeps me warm in the cold weather i have had loads of great compliments from all sorts of people too everywhere i go even the girls like it too lmao! if your a die hard batman fan like me then this is a gd buy for you
Submitted 9 years ago
Lily
VA
5.0
I love this shirt so much! It looks and feels great when wearing it! Since purchasing and wearing this shirt, I have gotten so many compliments from others! Shipping was fast too! :)
Submitted 9 years ago
Cszeto
Vancouver BC
3.0
Not bad. Don't expect too much with the quality of the material itself. Print will get washed a bit off in washer even with the garment wash inside out.
Submitted 8 years ago
4.0
The shirt was a perfect match for what my great grandson wanted. He idolized Nightwing and wanted the shirt. He likes black and the blue really shows up. Quality of material good and perfect weight for winter.
Submitted 9 years ago
3.0
So i got this shirt and it was amazing. The feel and look of the shirt was nice. But after one wash the logo started coming off. I didn't even put it in the dryer yet, straight out of my washer the logo was falling off in chunks. I recommend hand washing this guy.
Submitted 9 years ago
Matt
San Diego, CA
5.0
Awesome shirt. Feels great, fits even better. Could almost use for a nightwing costume!
Submitted 10 years ago
Jay
Ontario, Canada
5.0
When I first wore this I got nothing but compliments from my comrades!
Submitted 7 years ago
Customer
Connecticut
2.0
I washed the shirt inside out in cold water and yet the symbol still tore. The shirt has a great feel and overall just looks awesome. Printing ruined it for me though.
Submitted 8 years ago
4.0
My 15yo son loved the shirt. I wish the decal was a silk screen instead of an iron on. I hope it holds up in the wash. Other than that my son loves it, good quality shirt.
Submitted 9 years ago
5.0
The blue of the logo is eye catching...love it
Submitted 10 years ago
Nightwing 172894
Los Angeles, CA
3.0
This is an awesome shirt but washing it will ruin the symbol even if it's in cold water while it's inside out and I only washed it once also you must let it air dry
Submitted 8 years ago
mike
ajax, on
4.0
very awesome, the shirt itself is a bit scratchy and thick at first but a few washes with some softener and it's gold. also the symbol is very well done and stays on firm even after a few washes.
Submitted 9 years ago
Alec Holland
Dagobah
5.0
The shirt was wonderfully radical. Came in awesomely quick. The fabric is narly. Now I need the sweater that looks like the one from the picture. Es gafallt mir. Nightwing ist toll.
Submitted 9 years ago

New York
5.0
Great Shirt just the kind of thing to wear during the winter time. I just wish superhero stuff had stores where we can try the shirts on first before buying them. That way I would have found out that I'm a medium instead of a large But Overall AWESOME SHIRT
Submitted 10 years ago
5.0
i havent gotten so many compliments on this shirt. the logo is nice and the color really stands out!
Submitted 9 years ago
Ben
British columbia, canada
4.0
It was good but u guys should make crewnecks
Submitted 10 years ago
Alice
Crestview, FL
5.0
The symbol is large and that's always a good thing when your representing your favorite superhero. It makes me feel like a gender-bent Nightwing xD . The material is also nice and soft. I wish I had gotten a medium because of my long-ish arms, it doesn't cover from a little above my wrist and down. That's alright though, I still love it nonetheless!
Submitted 6 years ago
Adorkable
Louisiana
5.0
Great quality!! I ordered hubby a size up though due to cotton count.
Submitted 3 years ago
Great Fit
Carolina PR
Submitted 4 years ago
Tommy Nightpunk
Titans Nest Palmer, AK
5.0
Fantastic Nightwing shirt. Nice quality. Get find. Perfect size too.
Submitted 5 years ago
Drew, who often spends too much on this site- but worth it!
Ct.
5.0
Looks and wears good.
Submitted 3 years ago