Star Wars Women's R2D2 Costume Tank Dress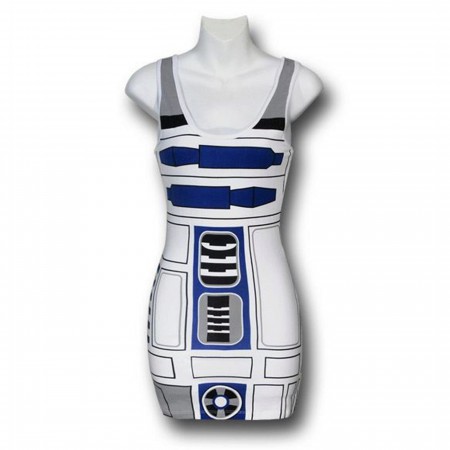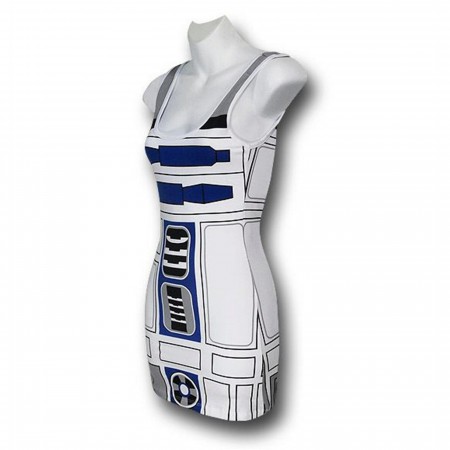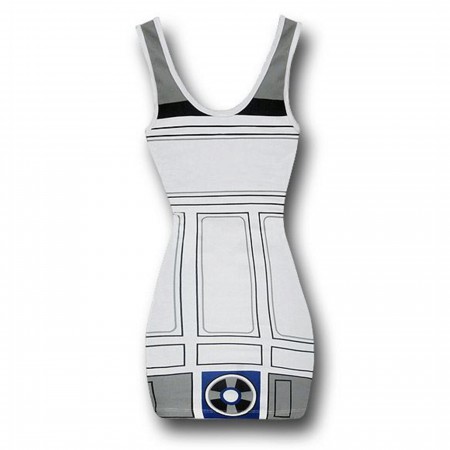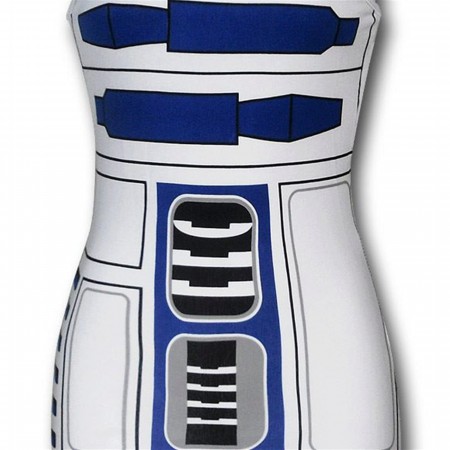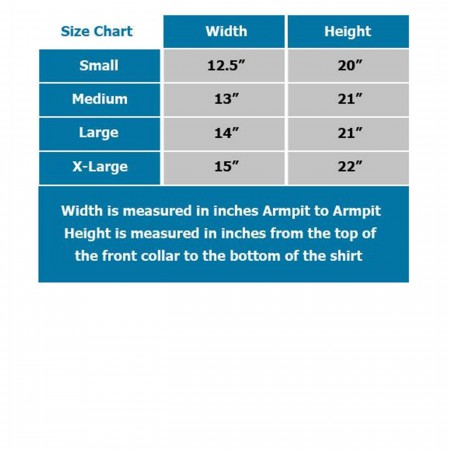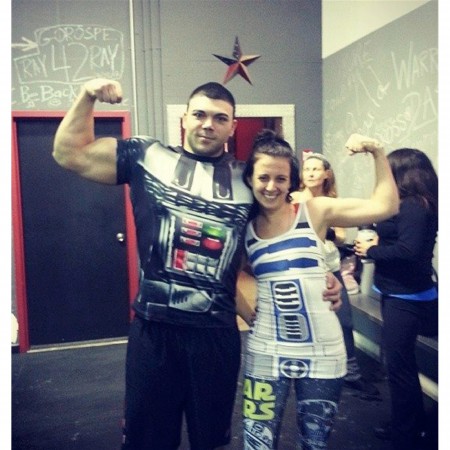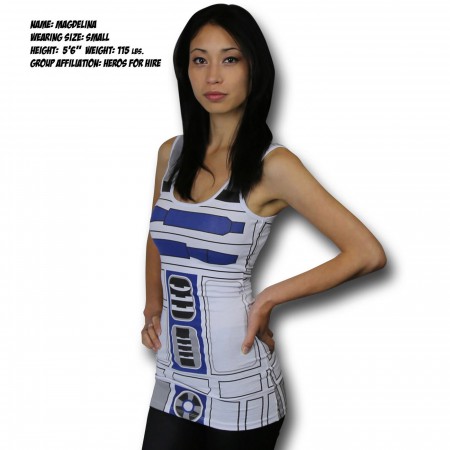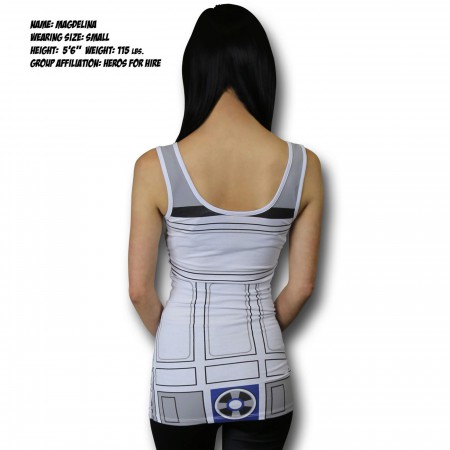 Star Wars Women's R2D2 Costume Tank Dress
We are not planning on bringing this item back currently, but we'll let you know if that changes!
We'll let you know as soon as the item is back in stock!
The Star Wars Women's R2D2 Costume Tank Dress will transform, in appearance anyway, your torso into that of the lovable little astromech droid R2D2 from the immensely popular Star Wars series. R2D2 was the shorter and wiser half of the intergalactic comedy duo, so now all you need is a taller, fussy motormouth-ed protocol droid to complete your set. You should be able to find one of those anywhere. Then you two will be a regular Bert and Ernie. Stan and Ollie? Whatever team you're seeking to pay droid-y homage to, this tank top's full print of R2D2's panels and compartments on the front and back is here to help. And though this 94% cotton, 6% spandex Star Wars tank dress is much lighter and softer than any actual R2 unit's body, it is probably also much harder to clean mud from, so take care in your re-creations of any and all Dagobah scenes whilst wearing your Star Wars Women's R2D2 Costume Tank Dress.
More Details
Product Brands:
Star Wars,
R2D2
Product Category:
Clothing & Apparel,
Tank Tops
SKU: tsstrwrsr2d2cstjrtnk
Reviews of Star Wars Women's R2D2 Costume Tank Dress
5.0 (Based on 20 reviews)
Heather
Houston, TX
5.0
I knew there would be lots of aliens and astronauts, and wanted something unique. I stood out with silver leggings and fun make up. Will wear it casually as well and am very pleased with the purchase. Best, Heather
Submitted 9 years ago
Cat
Canada
5.0
I love this product! It's stretchy, looks exactly like the photo, and super comfortable for a day at Con! Thanks! Will definitely order from this website again!
Submitted 7 years ago
Niki
Piedmont, AL
3.0
I'm not a big woman at all.. I wear a med in tshirts I ordered an XL and it's skin tight and barely covers my butt.. If you are bigger than a b cup, opt for something else.. it stretches and becomes almost see-through up top. Quality is really nice though :)
Submitted 9 years ago
Casey
Vacaville, CA
4.0
In junior's shirts/tops, I usually wear a medium comfortably. This tank top in medium was super snug, not very comfortable... it'll emphasize everything (making "not much" look like "quite a bit") unless you have a very flat belly. It's also really long, it ends below the butt. It could be a mini-dress if that's your style... but these would be great with leggings. I sent back the Medium to exchange for a Large a couple weeks ago and am still waiting on that. I really like this tank top. :)
Submitted 9 years ago
R2 Girl
Toronto, ON
5.0
Purchased this and the Storm Trooper tank to wear at Star Wars week-end at Disney. This tank got a TON of compliments! As other reviewers have mentioned, it *is* snug and leaves nothing to the imagination - I'm 5'3" and an XXS and the small was just perfect, but let's just say I was *really* happy that I had fit in those extra work-outs before I wore it, lol. Nude bra and white shorts are a MUST under this - it is not long enough to be a mini dress. It was comfy and fun to wear - I highly recommend it!
Submitted 9 years ago
Eilleen
Vancouver
3.0
Awesome top but sizes run smaller than normal. It is stretchy so it technically "fits", but when stretched the images on the shirt distort and look faded. Great shirt but select a size one up from whatever size you normally wear.
Submitted 9 years ago
Zia
Parsippany, NJ
5.0
I wear it as a workout shirt, and it is NOT a dress ... It does cover my butt, but that's it ... so SURE it COULD be a dress ..... but hardly. I do like it though. VERY snug shirt. I'm thankful that I'm skinny.
Submitted 8 years ago
Amanda
Brantford, ONT
5.0
I absolutely love this shirt/dress (it's more of a dress on me; I bought a youth lrg). I usually wear an adult Xs-Sm and a youth large was my fit! It still fit tight, but it's stretchy. The material quality is also outstanding! Nice and thick; it won't trash in the washer! Super fast shipping too!
Submitted 9 years ago
Elo
Madrid, Spain
5.0
I'm very small and I usually wear XS, but I got this in L and it fits perfect as a dress. It's my new favorite!
Submitted 9 years ago
Piratewench
Salt Lake City, UT
4.0
I absolutely love this tank dress. The material is better quality than I thought. My biggest issue is that it is REALLY small in size. I am normally an XS-S, and I bought a large after reading the reviews on here. The large is a great fit for me, but if I hadn't read the reviews and bought a small, I would have been really disappointed, so I recommend at least going a size or two up.
Submitted 8 years ago
Amy
Icelans, Reykjavik
5.0
I've been dreaming about this shirt for so long, as I live in Iceland and there are no stores, I literally cry how amazing this shirt is. I must have it ! Star Wars geek and R2D2 is my favorutie ! I'm in love
Submitted 9 years ago
KTH
2394588762
5.0
So fun to wear my favorite droid when Im out and about!
Submitted 8 years ago
Janet
Ontario, Canada
4.0
This tank dress is super cute! It does fit small/snug for its sizing so keep that in mind when ordering!
Submitted 7 years ago
Mike
Grand Rapids
5.0
You can imagine...... yep its that hot
Submitted 8 years ago
Jiane, Cosplay Enthusiast
Pittsburgh, PA
4.0
When I first received the product I thought the look and fit was great. I received many compliments when I wore it to several costume parties and cosplay events. I was just concerned about if the design will fade after so many washes in the washing machine.
Submitted 7 years ago
Jambee
Berkeley, CA
5.0
I get lots of positive comments from people when I wear this tank top. I do roller derby and love to wear this tank top to practice as well as my many other super hero and sci-fi shirts that I've purchased from here. I recommend this site all the time to strangers, my team mates, family and more.
Submitted 9 years ago
Chris
Las Vegas, NV
Submitted 4 years ago
Aurora
Bellingham, WA
5.0
So cute, so comfortable!
Submitted 4 years ago