Robin Caped Armor Costume T-Shirt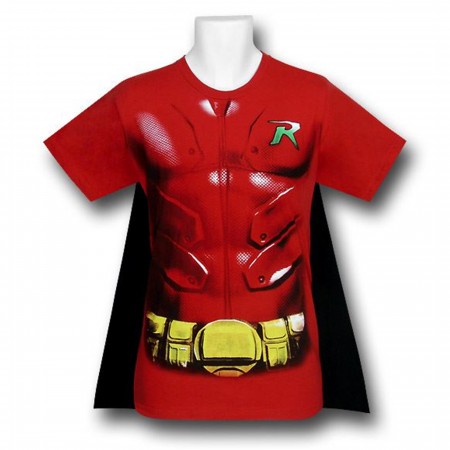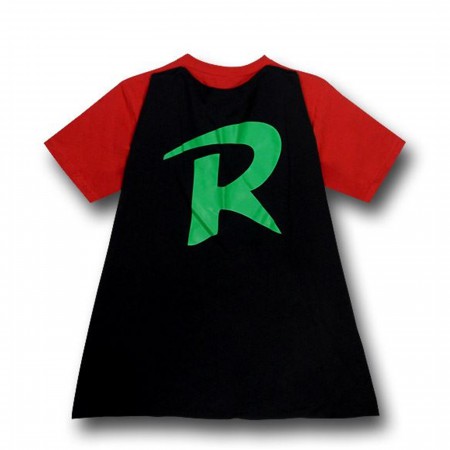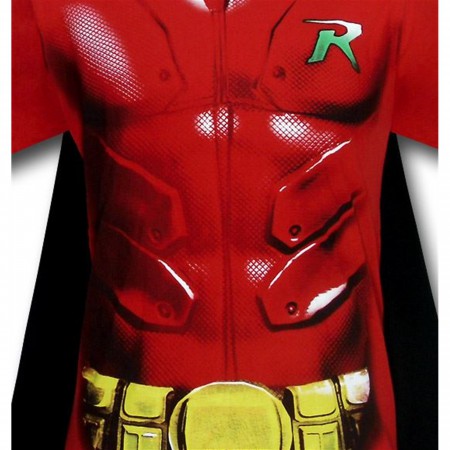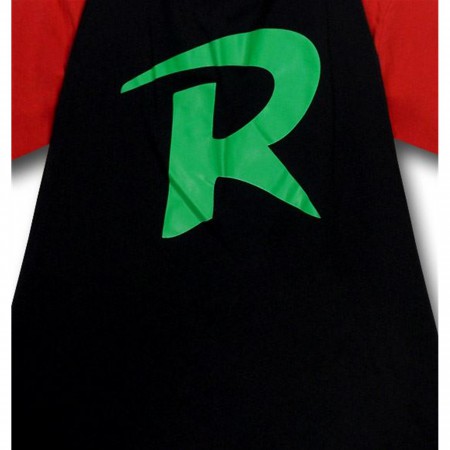 Robin Caped Armor Costume T-Shirt
We are not planning on bringing this item back currently, but we'll let you know if that changes!
We'll let you know as soon as the item is back in stock!
"Print On Front Only"

Our Robin Caped Armor Costume T-Shirt is made from 100% cotton and has everything a Dark Knight's sidekick could want! The print replicates the mesh-y, chest-plate-ish appearance that the costumes of many of today's heroes seem to favor.  On the left side of the chest on this Robin shirt is a green 'R'...for R-mor plating....we mean, Robin. And there's printed yellow utility belt across the waist which may or may not hold your pretend set of spare Batmobile keys. On the back of the shirt, attached to either shoulder via a velcro tab there's a cape! A nice black cape with a great big green 'R'...for you know who!
More Details
Product Category:
Clothing & Apparel,
T-Shirts
Reviews of Robin Caped Armor Costume T-Shirt
5.0 (Based on 16 reviews)
Spazz Clayton
Reamstown,PA
5.0
This shirt is a totally great buy, and the ladies love it!
Submitted 9 years ago
Andrew comic book fan
Bournemouth u.k
5.0
Really comfty looks great :)
Submitted 9 years ago
The Dynamic Duo
New Orleans Area
5.0
My grandson and I portray the dynamic duo for different functions in the New Orleans area. We have been doing this for approximately three years. He had grown out of his Robin costume and I searched the internet for the perfect substitute. I found it at your website. The shirt is of high quality and my grandson said it looks COOL! He hasn't had an opportunity to wear it as of yet. Our next appearance is July 25 at a birthday party. The below website will enable you to read a story that appeared in our local paper. http://blog.nola.com/river/2015/07/dynamite_duo_from_destrehan_de.html#incart_most_shared-river-parishes
Submitted 6 years ago
Jessica
Mooresville, Indiana
5.0
Good quality shirt and cape with amazing graphics. Only downside is the "sticky" side of the velcro is on the shirt not the cape so it sticks to other clothes or itself in the washer.
Submitted 6 years ago
Sethmon
Anchorage, AK
5.0
I absolutely love the design of this shirt. While I hate changes to my favorite comic book characters the team behind Batman Arkham City ensured they kept key design features while making the costume more modern and realistic. I also liked the cape, it is unique and different than my other velcro capes and black and green happen to be my favorite colors.
Submitted 8 years ago
Martha
Boston, MA
4.0
Got the shirt in a good amount of time and it was as expected. Would love the price to be less but I guess that goes with the territory of Halloween costumes. Other sites offered a mask with the shirt ~ that would have been nice.
Submitted 8 years ago
Maria
New York
5.0
I purchased this t-shirt for my son and he loved it. It is of great quality and fit.
Submitted 9 years ago
Robin: Boy Wonder

5.0
I think that it's exactly what you see in the pictures! I was amazed and surprised when I got it tonight even though I knew what I was getting. I originally was gunna get the other robin costume shirt but this one looked way cooler! I love the cape! I never expected it to be that good of quality.
Submitted 9 years ago
Gift Giver
Springfield, Ohio
5.0
All it needs is the Velcro to be red too.
Submitted 9 years ago
Sidekick
Los Angeles, CA
5.0
My son loved it, it was comfortable. He got a lots of compliments.the fix was good.
Submitted 7 years ago
5.0
Excellent my son loved it
Submitted 9 years ago
Marc
Mi
Submitted 7 years ago
5.0
Was exactly what i wanted!!!! Fit like i thoight it would too!!!!
Submitted 9 years ago
Peter
San antonio
3.0
But it is waaayyy to big for mu little boy. Youth small not small enough for a size 5 xtra small boy
Submitted 8 years ago

Texas
5.0
Well made & just enough muscles!
Submitted 9 years ago
Zach Williams
Batcave, Gotham City
5.0
I received this shirt in the Robin/Nightwing hero box last Christmas and I could not be happier!!! I wear it to school with pride and get quite a bit of compliments. I love Tim Drake Robin and this shirt displays my Batman Arkham fandom and feels great!
Submitted 5 years ago