Batman Rogues Reminder T-Shirt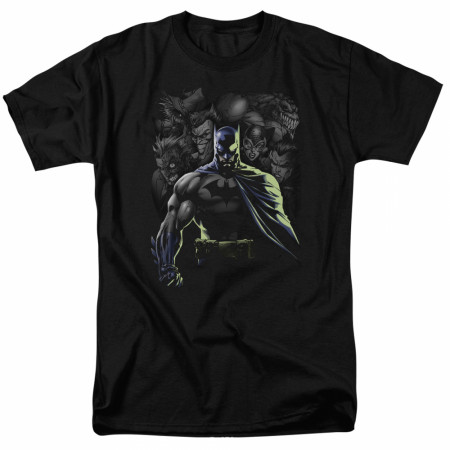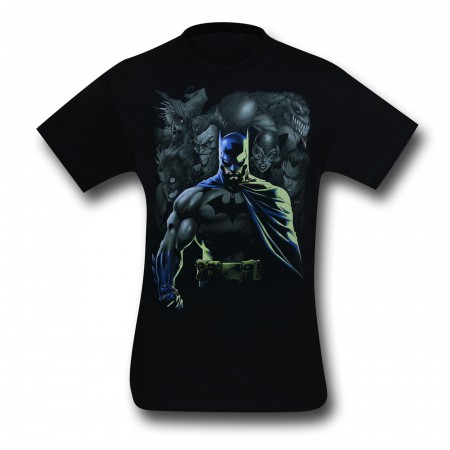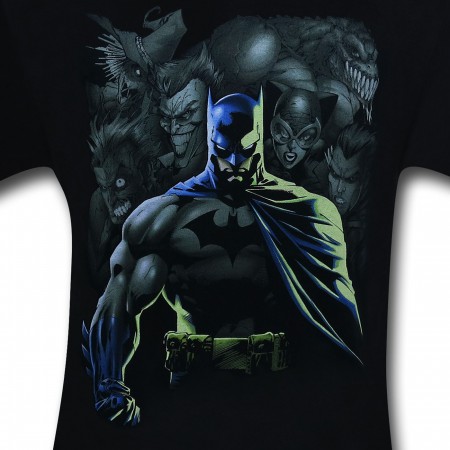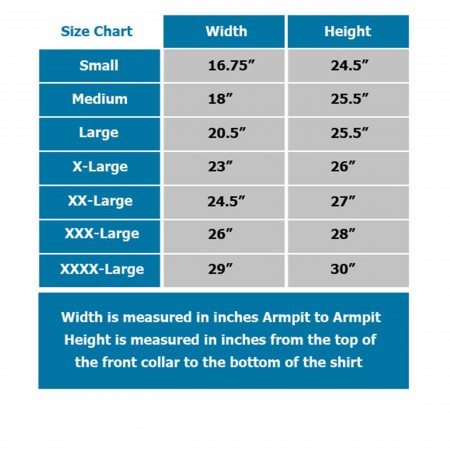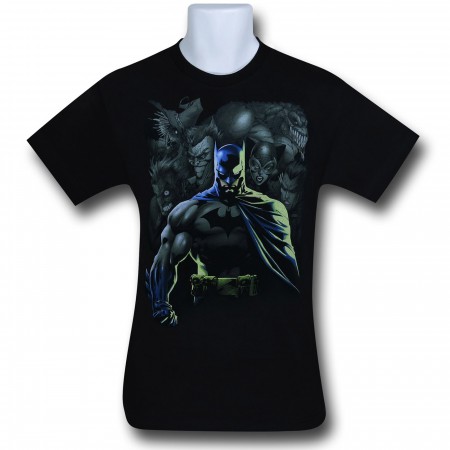 Batman Rogues Reminder T-Shirt
Shipping Guarantee
In stock items ship within 1 business day
Made from 100% cotton, this black t-shirt features an image of Batman front and center, stagnant and stoic regardless of the haunting, lingering, phantom memories of Batman's more...pervasive opposition!  Batman might not be in current conflict with a particular rogue, but the memories of past contentions with unabashedly psychotic malcontents swirl and saturate Batman's present awareness. Yep, the stain on Batman's psyche left by the actions of certain, clown-painted individuals and their ilk is often times more difficult to deal with than Batman would ever care to admit. Thank goodness there's always the Scarecrow to slap around, dangle off a 32 story building and punch in the no-no's.
More Details
Product Brands:
Batman,
Catwoman,
Joker,
Villains
Product Category:
Clothing & Apparel,
T-Shirts
Reviews of Batman Rogues Reminder T-Shirt
5.0 (Based on 28 reviews)
Ridley the comic book lady
San Diego, CA
5.0
I wore this to the San Diego Comic-Con and many people loved it it. A must-have for Batman fans. Makes a great gift.
Submitted 8 years ago
Robert, Old School
Huntsville, AL
5.0
I bought the Batman T for my son as a Christmas gift. He really likes it, along with the many Joker Tees that he has. Great imagery.
Submitted 7 years ago
Marcus D. Mitchell
Sasebo, Japan
Submitted 7 years ago
5.0
One of there coolest Batman shirts
Submitted 9 years ago
5.0
Looking forward to a long relationship with SuperHeroStuff.
Submitted 9 years ago
Christy
Charlotte, NC
Submitted 6 years ago
Asgardian hero
Swanton OH
5.0
the shirt looks even awesomer in real life. it comfortable and fits great. Batman's the boss
Submitted 7 years ago
Jenelle, mom of 4
Missouri
5.0
I got this shirt for my dad to wear to a Batman Live show. He loved it! The shirt is well made and has not faded. Very reasonable price.
Submitted 8 years ago
5.0
i ordered a large and it was the right size. the shirt is easy to keep clean and the graphic is very very nice
Submitted 8 years ago
5.0
Very nice art with Batman and his villains.
Submitted 9 years ago
Batman Fan
Florida
5.0
Fits well, great design, would recommend to everyone.
Submitted 9 years ago
Jake
Dallas, tx
5.0
This shirt is great!!! Just like every shirt I have gotten from here!!! 3x fits true to size a little for tall guys but not a complaint
Submitted 8 years ago
John
New York, NY
5.0
Fits perfectly, and the Graphic is awesome!
Submitted 9 years ago

Ontario, Canada
5.0
I love this shirt! Everyone comments on the shirt when they see it!
Submitted 8 years ago
Some Cab driver
Las Vegas, Nevada
5.0
Everyone from the movie theatre to the mall recognized and appreciated the shirt
Submitted 8 years ago

zaragoza (spain)
1.0
a bit dissapointed with the quality of the shirt. the picture was good
Submitted 8 years ago
Jon
Manila, Philippines
5.0
Nice shirt, nice design. my wife and daughter likes it
Submitted 5 years ago
UrGnDieBman
Gliwice, Poland
5.0
IT'S AWESOME, WHAT ELSE TO SAY
Submitted 6 years ago
Sweetnessddd
Limerick, Ireland
5.0
Great quality great fitting
Submitted 7 years ago
Ruby
VA,Spain
5.0
It´s a unique opportunity to enjoy one of the best illustrations from Jim Lee.Since the moment I discovered the marvelous world of DC COMICS I´m a huge fan and amongst the so many known artists in that world one can find Jim Lee´s designs and characterizations and this one "to be more precise" is a piece of art.The wide variety of Batman´s foes and Batman ready to take action to neutralize them,"all of it depicted on the same image" makes this product a golden opportunity so that everybody can be engulfed into that world.Who hasn´t ever heard about THE JOKER sometime or the so well known femme fatale CATWOMAN who is the sultriest snatcher phony in all the interstate and two face with his... "HEADS AND TAILS"decisions at time of doing anything?Highly Recommended.
Submitted 8 years ago
Redrauder
Miami,FL
5.0
Everyone love the shirt so do I
Submitted 9 years ago
Bob
Rancho Cordova, CA
5.0
Got it for my birthday...
Submitted 9 years ago
Becca
Edinburgh, Scotland
5.0
Brilliant just as described
Submitted 9 years ago
Jamielee
Asheville, NC
5.0
It looks even better in person!
Submitted 9 years ago
josue mendez
NY, United States
5.0
100% cotton tee shirt good quality ..batman and his enemies ..
Submitted 1 year ago
Sheila Lucas
WI, United States
Submitted 7 months ago
Lynnell Scott
TX, United States
5.0
I bought this as a gift for my nephew and he loves it. The graphics are well done, it fits well and is made from sturdy a cotton/ blend that isn't thin or flimsy.
Submitted 3 months ago