Superman Symbol Shirt Royal Blue Long-Sleeve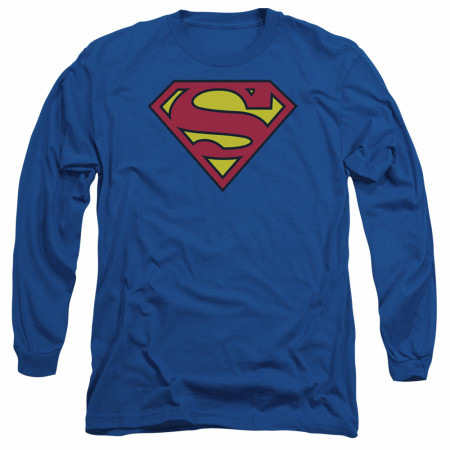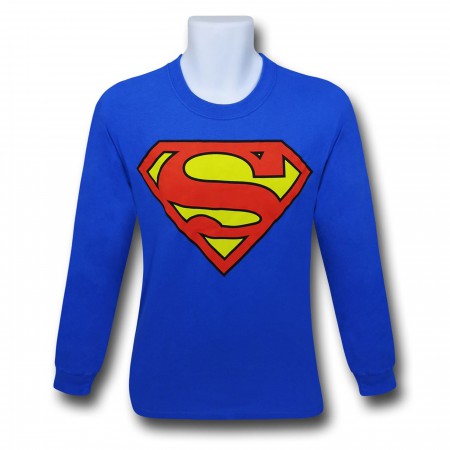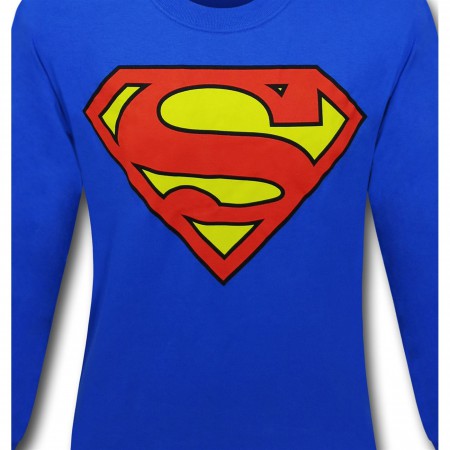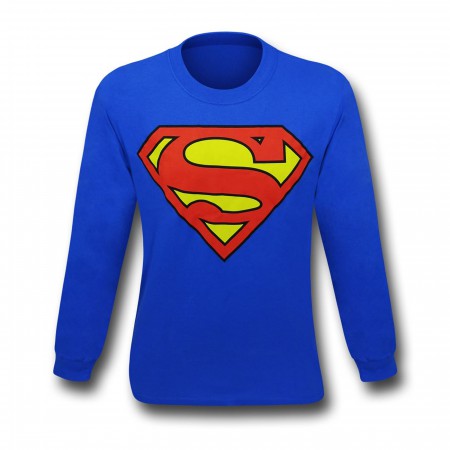 Superman Symbol Shirt Royal Blue Long-Sleeve
Shipping Guarantee
In stock items ship within 1 business day
Superman acknowledges your sensitivity to lower temperatures.

Which is why he granted us some liberties with his license, like printing the Superman symbol on a comfortable long sleeve shirt.

This 100% cotton Superman long sleeve shirt is just like the traditional royal blue symbol short sleeve shirt, but different; it has longer -- specifically, "long" -- sleeves. 

And that especially bright Superman symbol layering a royal blue shirt? It's "especially" so because of the screen-printed application. Basically, it will endure atmospheric reentry without acquiring the slightest molecular blemish.
More Details
Product Category:
Clothing & Apparel,
Long Sleeve Shirts
Reviews of Superman Symbol Shirt Royal Blue Long-Sleeve
5.0 (Based on 34 reviews)
The Girly Whovian
Canada
5.0
They look good with my skinny jeans! This is a note to all the females out there: you can wear this shirt too! :)
Submitted 10 years ago
Nadiah
Singapore, SG
4.0
What you see is what you get- the color of the shirt stays true to the website! It is extremely comfy and the shipping is fast as well. The only thing is that I would have ordered a size smaller to have a nicer fit. But overall, it's awesome!
Submitted 10 years ago
Carlos
Madrid, Spain
5.0
The product: awesome!! I liked it since I see it in the web. And it came at my home in Spain in only a week!!!
Submitted 10 years ago
Jax-elcomicenthusiast
Farmington, MI
5.0
Classic, traditional, iconic, fan favorite classic "S" shield satisfied to own a one of a kind man of steel long sleeve tshirt everything ive purchased from here has been meeting my standards excellent stuff love this site
Submitted 8 years ago
Maher Superfan
Ontario Canada
4.0
Overall material and quality of shirt is excellent, only downfall is sleeves are too short in relation to size of shirt.
Submitted 8 years ago
5.0
i love the long sleeve t shirt i purchased
Submitted 11 years ago
5.0
Super!!!!!!!!!!!!!!!!
Submitted 10 years ago
Blkdynamite
Washington DC
Submitted 10 years ago
Delip
Singapore
5.0
I work in a school as a counsellor , and one day wore this to work and it caught the attention of my students, I was definitely the limelight of the day, comfy wear regardless the hot weather.
Submitted 9 years ago
5.0
The material quality and colors are perfect
Submitted 11 years ago
Lily
VA
5.0
The color is amazing, the fit is awesome, and the shipping was fast too! I definitely recommend this to Superman fans!!!
Submitted 10 years ago
Tammy
Kasigluk, AK
4.0
Looks just like the picture - I like it! It is a men's cut, which I figured when I bought it...I wished it fit a little better.
Submitted 10 years ago
Delip
Singapore
5.0
It really catches one's attention. I work in a school setting and wore this work. My students really loved it and kept on humming the superman theme music and I walk past their class. It's really comfortable to wear even the weather is hot.
Submitted 9 years ago
Nadia
Ontario, Canada
5.0
Wonderful quality. I'd say true to size. Wouldn't hesitate recommending this product.
Submitted 9 years ago
Camilla
Denmark
3.0
I thought it was like at real sweatshirt, but it's more like at normail t-shirt with long sleeves. But it's fine and my daughter is crazy about it.
Submitted 10 years ago
DNTK
Chula Vista, CA
5.0
I bought this as a small and it doesnt stick to my body completely but its small, the sleeves arent tight like the body but they are a bit short so if youre expecting to look like the new 52 superman with the sleeves up to your hands, dont even but other than that, its special cause most places sell regular t shirts, not longsleeves
Submitted 11 years ago

egypt
5.0
Superman Shirt Rocks!
Submitted 11 years ago
Jeza
Aus, Qld
5.0
Its So Awsome When You Wear It You Feel Super!!.
Submitted 10 years ago
5.0
nice, fits well, and keeps me cool.
Submitted 11 years ago
Zayrah
Chicago,IL
5.0
Last week of senior year and I find out its spirit week! I quickly googled "superhero clothes" and this amazing website popped up! I was overwhelmed with so many different options to choose from, but I went with the classic superman shirt. While I was putting my information in, i accidentally misspelled my address and didn't notice until I had already clicked submit, but the customer service helped me out right away and I got my shipment in no time. (A week or even less-cant remember) the standard time. Don't be worried to purchase from this website. Very user friendly and reliable. :)
Submitted 10 years ago
Kevin
Erie, PA
5.0
Comfortable. Logo survived first few washes with no wear.
Submitted 8 years ago
Natasja
The Netherlands
5.0
very fast delivery and a great shirt
Submitted 11 years ago
clark
Ottawa ,ON
4.0
Good quality fabric and logo, quick delivery, no problems. Product good. Website overall needs big sizes(3xl-5xl). Theres LOTS of big people wanting superherostuff. Ask Comicbookguy on Simpsons:)
Submitted 9 years ago
Kristina, new to the superhero ranks
Floral Park, NY
5.0
I got my shirt in the mail today and I absolutely love it. Despite the horrible weather we have been having, my shirt got here in a speedy time. It is true to it's color and is absolutely comfortable. I ordered a size larger than I really am to be safe, but totally didn't need to. I love this shirt
Submitted 9 years ago
DefaultPlayer
Ireland
5.0
Unlike other long-sleeve shirts I've bought, the wrists on this aren't restrictive and you can roll the sleeves up. I like it Also the colours are perfect.
Submitted 11 years ago
Sue
Nashville, TN
5.0
Good quality and very nice blue
Submitted 7 years ago
Yehuda
San Antonio
Submitted 6 years ago
PhoeniX
E ,IN
5.0
I will be buying more here in the near future.
Submitted 6 years ago
Jason
Cincinnati
5.0
GoodGoodGoodGoodGoodGoodGoodGoodGoodGoodGoodGoodGoodGoodGoodGoodGoodGood
Submitted 6 years ago
Mike from CT
Danbury, CT
5.0
Good quality and quick ship too.
Submitted 5 years ago