Exclusive
Nightwing Symbol 39Thirty Fitted Hat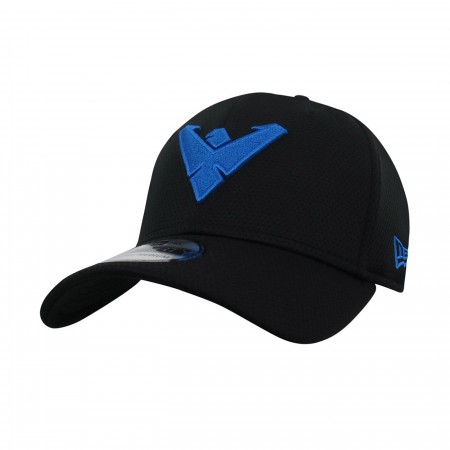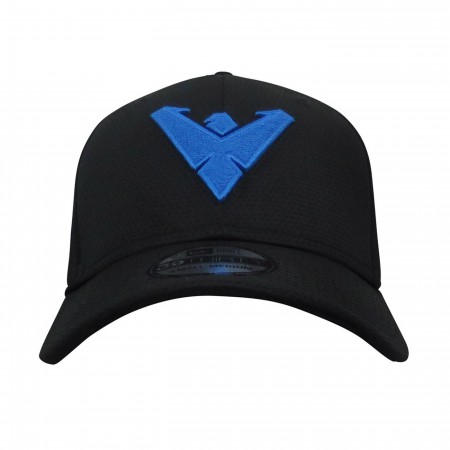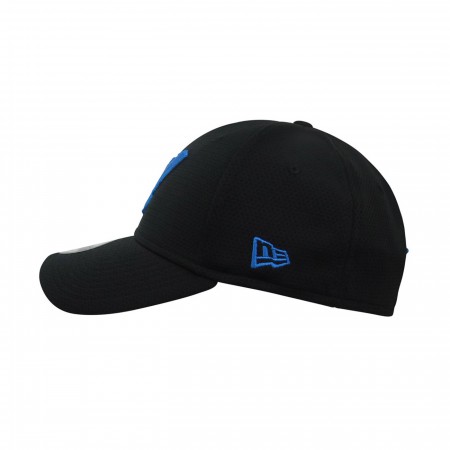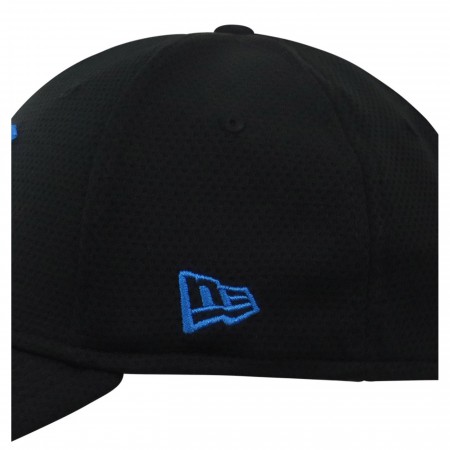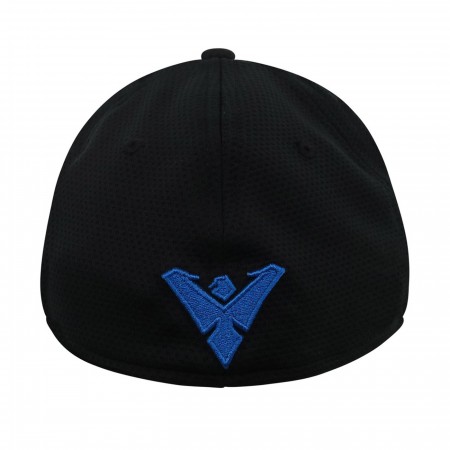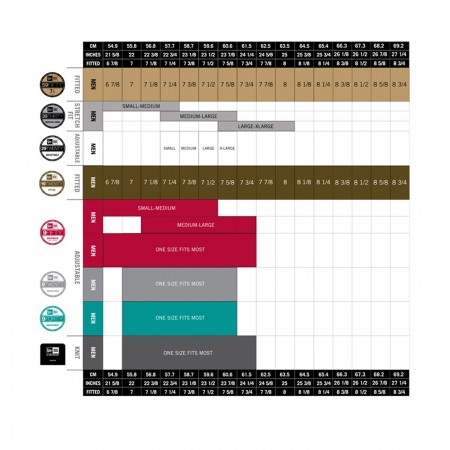 Exclusive
Nightwing Symbol 39Thirty Fitted Hat
We are not planning on bringing this item back currently, but we'll let you know if that changes!
We'll let you know as soon as the item is back in stock!
The costume that can take a bullet, and break a fall.

Nightwing performs a lot of dangerous acrobatics on the rooftops of Bludhaven -- it's not unnatural for him to fight Blockbuster's goons while dangling upside down from a fire escape.

Occasionally, Dick Grayson, aka Nighwting, takes a fall from a very tall building. Luckily, his very impact-resistant uniform can absorb the lethal pulping power of a 75-story drop.
Our Nightwing Symbol 39Thirty Fitted Hat celebrates Nightwing's extra resilient, moderately bullet-proof uniform lovingly constructed by Batman.
Made from 100% polyester, this EXCLUSIVE Nightwing hat reflects the former sidekick's solo-adventure fatigues with a mesh-like exterior and a raised, embroidered Nightwing symbol.

Our Nightwing hat is layered in a resilient performance fabric called "NEC025."

This material grants the appearance of a hard-fiber mesh utilized in all manner of durable superhero-wear.

The bill? Curved, black, and positively slathered in NEC025.

Hey! What's on the back?? A smaller, skillfully embroidered Nightwing symbol.

The official New Era sticker? It's right there, resting soundly on top of the curved bill.

All the dependable characteristics of a high quality New Era Hat:
The embroidered New Era logo resting on the hat's right side.
The stitched taping crisscrossing the hat's interior.
The official New Era tag, also inside the hat!
This fitted 39Thirty hat is available in Small/Medium, Medium/Large, and Large/XLarge.
More Details
Product Brands:
Nightwing,
Batman,
Robin
Product Category:
Clothing & Apparel,
Headwear,
Hats & Caps
Reviews of Nightwing Symbol 39Thirty Fitted Hat
5.0 (Based on 37 reviews)
Ariel V. "Ocelot"
Brooklyn, NY
5.0
The Nightwing 39Thirty cap is hands down my favorite New Era cap! The materials and crafting of the cap are superb. The simplistic style and color of Nightwing's symbol is actually eye-catching. The cap fits much better and looks better than your standard 59Fifty cap. If you're a fan of the Prodigal Son or any member of the Bat Family, this is a definite must have.
Submitted 8 years ago
Arsenal
Springfield IL
5.0
I have always liked the 39THIRTY hats and having a Nightwing one is awesome. The one thing that people should remember is that 39THIRTY runs a half size large compared to other hats, so you may want to make sure what size you need before you order because their l/xl does not fit the same as other brands.
Submitted 9 years ago
Aaron
Indianapolis, IN
5.0
I waited quite a while for this hat to be back in stock in my size. The second I saw it was back in stock, I jumped on it. Once I received it, I tried it on and it fit perfectly. The flex-fit design makes it comfortable to wear and the logos look amazing. It was a great purchase.
Submitted 8 years ago
Nightwing fan
Sterling Heights, MI
5.0
Good quality. Looks great on! Would highly recommend for all nightwing fans.
Submitted 8 years ago
JC
San Antonio, Tx.
5.0
My Grandson loved his caps, he never took them off on Christmas night.
Submitted 8 years ago
Steve
Grand Rapids mi
5.0
HIts great! good looking
Submitted 9 years ago
Eric
Vancouver island BC
5.0
Bought this and another hat both were a perfect fit, embroidered emblem is centered nicely and the stitching has no errors
Submitted 8 years ago
Omar
El Paso, TX
5.0
Look at the Size Chart first when ordering. I had to return mine for a better fit. Now that I have it, damn, this is an awesome cap. Fell in love with it the moment I put it on. Highly recommended.
Submitted 8 years ago
YankeiCanuck
Columbia, MO
5.0
I'm glad that I met my wife before this hat was created because if I hadn't, who knows how life would have turned out! I love it that much. Nightwing, not just in my head, but on it?!?! That's a pretty sweet deal. Oh, and the hat itself? It also rocks! So, overall, I think there needs to be another star button (above) to click on to say how I truly feel about it.
Submitted 9 years ago
Zahmira
Ontario, Canada
5.0
They aren't kidding when they say that these hats run big. The smallest size fit me perfectly. Hat is well constructed, embroidery is perfectly centred, everything is great.
Submitted 9 years ago
KevWhit
Long Branch, NJ
4.0
Great quality hat, logo is stitched on the front and back and looks great... seems like hats tend to run a little big, had to exchange the large/med for a small/med... happy to finally have one that fits and wear it everywhere!
Submitted 9 years ago
Dukethehazard
United Kingdom
5.0
amazing quality new era cap, perfect fit! so cool to cover your dome!
Submitted 7 years ago
Bruce Wayne
New York City, New York
5.0
This is a High Quality product, Think of this website and things that they sell as an exclusive shopping centers for few who are into Comics, comparing to Macy's and other big online shopping centers where big majority of typical people shop. In conclusion, I have only one thing to say, Quality over Quantity.
Submitted 7 years ago
Omar
El Paso, TX
5.0
Make sure you read the the size chart before you place your order. I asked for a L/XL then realized it was too big, so I sent it back for a M/L a huge difference!!! It fits perfectly. If you are a Nightwing fan, this is a must.
Submitted 8 years ago
Big Ric
Texas
5.0
very nice, great stitch work on the bird. Be very careful how u order when it comes to size. I got a med/lrg after buying a Batman cap (lrg/extra lrg) which ended up being too large for my head. It fitted snug at first but a little wear made it fit perfectly, i love it... specially when my non comic fan friends ask WHAT TEAM IS THAT SYMBOL FROM?
Submitted 9 years ago
Erick
El Paso TX
5.0
Excellent cap! buy it now
Submitted 8 years ago
MichaelRushMc
Seattle, WA
5.0
As someone who has a 7 5/8 hat size, I was really worried when ordering this hat. Flex fit hats, even in the largest size, never really seem to fit me well. This hat however, fits me well without giving me a headache. I have only had this hat for about two weeks, but people have already started to identify me with this hat because of how much I love and wear it. Only con: The flex fit interior will most likely leave an imprint if you have a large head size and order the L/XL. This is because the elasticity in the band gets stretched and folds irregularly with wear.
Submitted 8 years ago
Kenny
Orlando, FL
5.0
This hat is very nice and is put together extremely well. I did get a chance to visit the SuperHeroStuff booth at a recent convention to find out that these hats run large. I normally wear L/XL hats and I am comfortable going one size smaller in this brand.
Submitted 9 years ago
Felipe
BR
5.0
Great product, top quality materials and amazing symbol in front and back.
Submitted 9 years ago
Nate
Denver, CO
5.0
fits real good, looks real good, is real good.
Submitted 8 years ago
Pabs Huge Nightwing fan and collector
Stafford,Tx
5.0
High quality material, comfortable, and simple. I love the symbol that they chose incorporating comic version and TV version of Nightwing's signature symbol. Highly recommend the hat to others out there who are indecisive.
Submitted 9 years ago
Karen
L.A.
5.0
Love the color and it fits comfortably!
Submitted 7 years ago
Tufuga
Oahu, HI
5.0
Pros: - Awesome emblem for a cap - Since the cap is made by New Era the materials are top notch - There is a smaller version of the emblem on the back of the hat Cons: - Be aware that New Era always tend to run large and deep. So buy it one size smaller
Submitted 9 years ago
Miktuk
Ohio
5.0
Awesome product, runs slightly larger than the other models. Hard to find nightwing items though so this is great.
Submitted 6 years ago
Richard Butt
Winnipeg, MB
5.0
Love it. lost my old one. this is a replacement.
Submitted 6 years ago
D.C. Comics rules!
Scarsdale ny
5.0
Love the fit on my head it matches the tee shirt as well
Submitted 6 years ago
Nightwing fan
NJ
5.0
I get compliments all the time on the blue colour and people don't even know the symbol!
Submitted 5 years ago
Fique Frey
Kuala Lumpur, Malaysia
5.0
The stiching, the logo, the design, all of it (in other words : QUALITY) the best!
Submitted 5 years ago
Emett
Idaho
5.0
The hat fit perfectly. I get compliments on it all the time. A must for any nightwing fan.
Submitted 5 years ago
Vanessa
SoCal
5.0
It's great but I didn't think it completely through and I can't wear my hair naturally down with it
Submitted 5 years ago